Pretty Baby Accessories has collaborated with Heather Blair Photography and
Briar Rose Crafts
& Things to create a prop set to accompany the doll bed trend in newborn photography.This particular Doll Bed Quilt Was an idea brought to me by Heather. We brainstormed with Christina to create something special.
I have been collaborating with Heather Blair Photography since a few months after our opening. Her work is absolutely stunning and it is always a treat to see the squishy newborns modeling our accessories. Through working with Heather, I have made some great connections and have become friends with some amazing boutique owners.
One such owner is Christina, of Briar Rose Crafts & Things. Christina and her husband Dale create crochet and knit hats, cocoons, headbands, blankets, and more. Most of their work is for newborn photographers, but they also create larger sizes to cater directly to their customers growing children. Their work is spectacular and I highly reccomend picking up a prop from them for your next photo shoot.
Now that I have introduced the key players in this collaboration, Let me get to the good part...describing the goodies! This Newborn Photography Prop Set was made to match a particular hat and legwarmer set made by Briar Rose Crafts & Things. The colors are girly, bright, and reminiscent of spring; therefore I chose to work with floral print fabrics.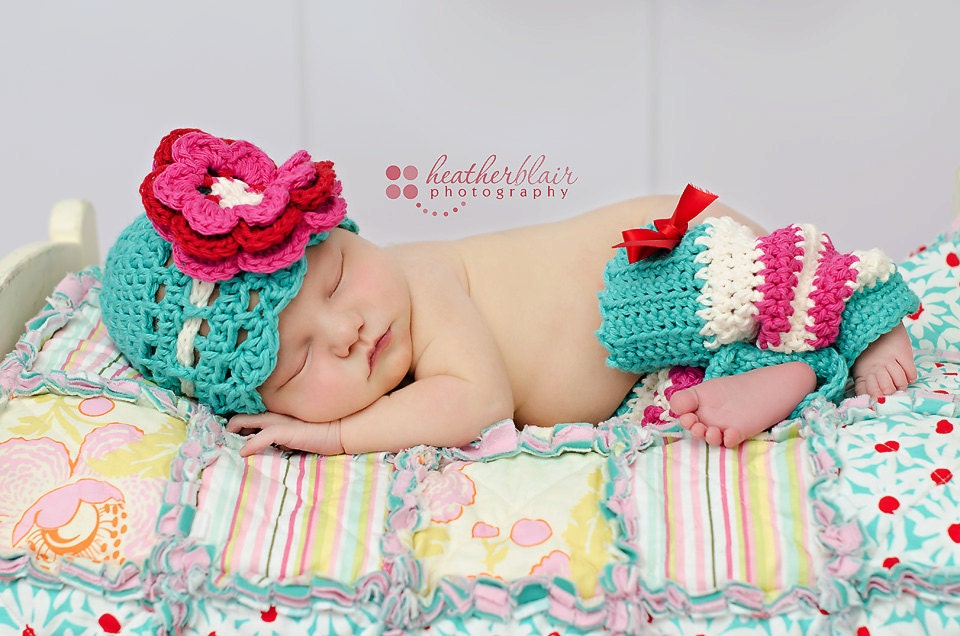 This particular quilt is referred to as a rag quilt. This is because of the fluffy/ frayed appearance of the seams and outer perimeter. The hand made quilt is a perfect fit for your doll bed prop and is made to have a slight over hang. A standard size doll quilt is 20" X 24", but we will accomodate for some of the smaller or larger beds on the market. (Please always let us know the bed size for an accurate fit). Quilts can be made for girls, boys, neutral, or reversible to include one boy side and one girl side.
Our set will always include a matching fabric banner. The banner will use the same fabric as the quilt and can be made to have scalloped or triangular panels. The length of the garland is 6-7' giving you enough room to position it as you please. As with the rag quilt, our banners can be made for girls, boys, neutral, or reversible to include one boy side and one girl side.
Thank you for taking the time to read about this fantastic collaboration. We look forward to working with these talented ladies again in the future and hope that you will let us know your thoughts and ideas for future projects.