Since beginning my venture in joining the world of children's boutiques I've developed an affinity to "window shop" for my future children! There are many talented artisans out there and I am on a mission to find them! With that being said, I have definitely found the shoe maker for my future daughters, nieces, god daughters and grand daughters (yes, my baby fever is on over drive lately!).
Cambria Laine, who also happens to be an Etsy Kids Team member, is a self taught seamstress (GO-GIRL!) with early guidance from her mother. Her "Star Product" in my eyes are her fabulous Leather Soft Soled Shoes for girls. The shoes currently come in sizes 3-24 months.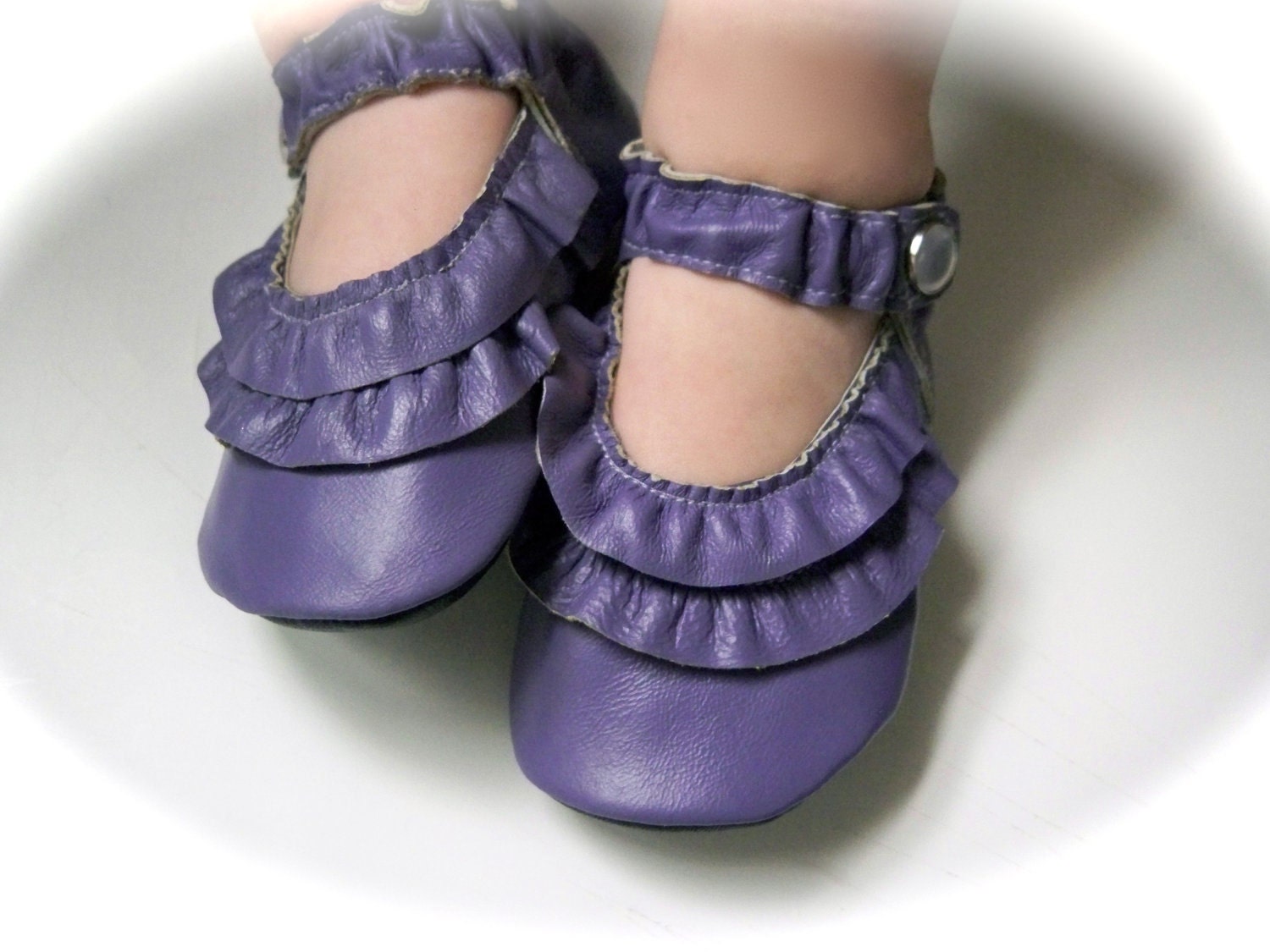 I had the pleasure of interviewing Ms.Cambria Laine herself to get all the juicy details on how she came to be so fabulous! Please read on and maybe we'll let you in on her giveaway ;)
When did you first discover your creative talents?
I began sewing at the young age of 5 years old. My mother taught me to hand sew from scraps of her fabric and I self taught from there! As a young
child I recall making elaborate hand sewn dresses for dolls using scraps. I never technically learned to sew from a pattern and still have trouble staying within the lines and following one! I alter everything. I learned more from experimenting with varying weights and sizes of fabrics and how to piece together, ruffle, fold, pin, tuck, and cut until the fabric was the shape I desired. I recently began working with leather and love it!
What made you open an Etsy Shop?
Economic times and job loss helped me decide to open an etsy shop. With a large family full of growing children and a non-existent grocery budget I had to do something.. Over the years friends and family members would comment on my projects, saying how they loved what I made. Then one day when I posted a photograph of an item I made for my child on facebook, a comment from an old high school friend insisting I should sell on etsy started it all. I clicked onto the etsy site and my adventure started from there! I can't believe (embarrassedly) that I had never shopped or visited the site before!
What items do you make?
I currently make leather soft soled shoes, a few leather hair clips, and hand stamp silverware and vintage pieces.
I started off by making the things I want for myself or my own children that I couldn't find. My garden markers were a fun whimsical way to get the kids involved in gardening, and were functional as well as beautiful! After having sons, I was thrilled to have a daughter! From the day my daughter came home from the hospital I longed to dress up her tiny toes with pretty shoes, but her feet weren't square and nothing store bought would fit. So I started making my own!
I sew, knit, bead, paint, sculpt with clay and other things...I pretty much dabble in just about any craft I find interesting.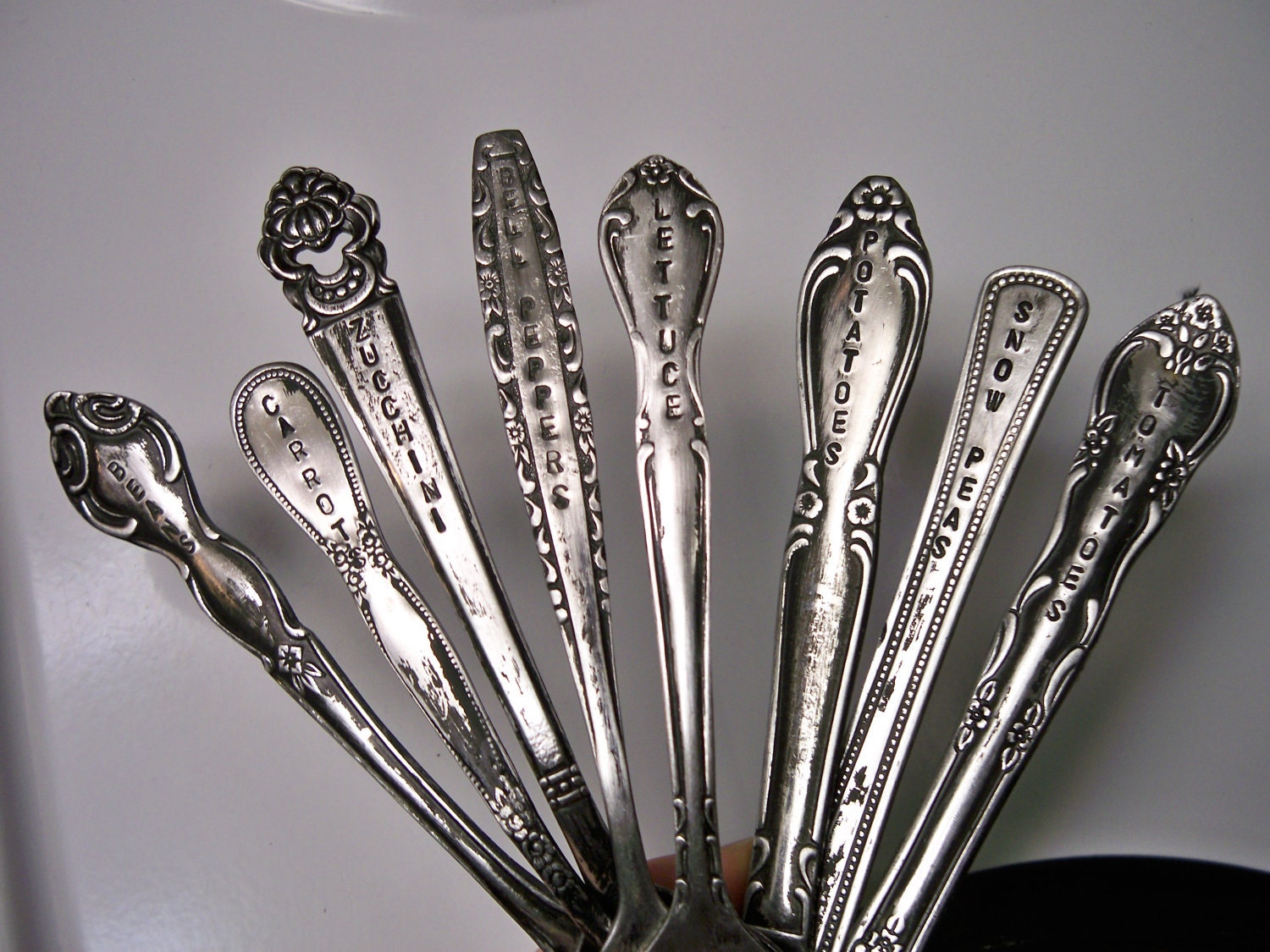 Hand Stamped "Garden marker" Silverware
What's your favorite item to make?
My favorite items are ones that can be used on a daily basis. I love the durability of a quality handmade item. I like things to be worn, loved and not sit on a shelf for fear of breaking. I'd like to tell people that I would rather see my handmade item worn and loved (but please don't abuse it!) than tucked away in a closet and forgotten. All the time and love that goes into making each piece is a part of the heart and soul of a handmade item. Wrap yourself & those you treasure in love & either make or buy handmade!
Where do you see your business in the next 5 years?
My shop will change and evolve with the seasons, as well as customer requests/styles. I like to think of my business as ever changing. I look forward to continuing to make shoes, and hope to expand to more unique items and accessories in the future. Maybe even something for the boys! ;)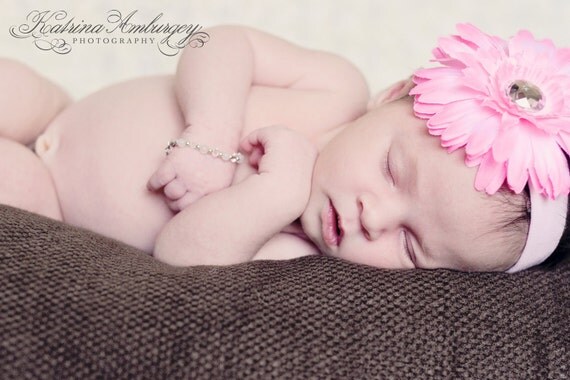 Diamond Sterling Silver Child's Bracelet
What inspires you to keep going and how do you keep yourself motivated?
As cliche as is may sound, my family inspires me. My children's tastes, interests, and activities as well as their unique personalities give me ideas to create and share. I am a mom of many, so I have to be motivated! My life is never slow or dull, it is very full and busy, so giving myself deadlines helps keep me stay on top of things.
How do you promote your business?
I have a very different view on business and promotion than most. While advertising has it's place, I find word of mouth to be the most effective so far. I strive to make quality items, and that I feel that satisfaction with what I create is what propels people to recommend my shop to others. I see this as an ever changing and evolving work in progress as well.
GIVEAWAY
Cambria Laine recently hit their goal of 200 fans on Facebook (Way to go!). To celebrate they are holding a giveaway

for a $20 credit toward anything in their Etsy Shop (

http://www.etsy.com/shop/CambriaLaine). All you have to do To join in on this giveaway Is become a fan of CL on facebook - http://www.facebook.com/myCambriaLaine - and let them know Pretty Baby Accessories sent you! (Tag us in your post using the @ symbol).
Once you are on their fan, you can enter the giveaway on their fan page!
This giveaway will be open until OCTOBER 17th